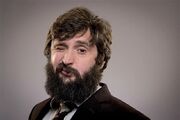 Joe Wilkinson is a British comedian, actor and writer. He has appeared regularly on 8 Out of 10 Cats Does Countdown, first as Rachel Riley's assistant and then as a contestant and guest team captain. He works with Diane Morgan, under the comedy duo name "Two Episodes of Mash".
In 2016, Wilkinson appeared in series 2 of Taskmaster, finishing last with 69 points.
Performance
Edit
Task
Description
Joe Wilkinson
Episode 1: Fear of Failure (21 June 2016)
1
Prize: Most important document.
5
2
Place three exercise balls on a yoga mat, on top of a hill.
2
3
Throw a potato into a golf hole, without touching the red green.
DQ
4
Get information from a Swedish person, who may not communicate in English.
1
5
Live: Pack for a holiday.
0
Total
8
Episode 2: Pork is a Sausage (28 June 2016)
1
Prize: Trendiest item of clothing.
2
2
Eat an egg the fastest.
2
3
Create a video for a nursery rhyme.
2
4
Take a photo of an inanimate object that looks like you.
2
5
Order a pizza without using specific words.
4
Bonus: Make the person on the other end of the line say 'bubbles'.
1
6
Live: Put potatoes into a basket using extra large 'chopsticks'.
0
Total
13
Episode 3: A Pistachio Éclair (5 July 2016)
1
Prize: Best dinner party guest.
5
2
Impress the mayor of Chesham.
3
3
Make an unexpected silhouette.
3
4
Buy a gift for the Taskmaster with £20.
2
5
Team: Retrieve a potato between various teammates who between them cannot see, hear or speak.
0
6
Live: Throw toy rabbits into a top hat.
12
Total
25
Episode 4: Welcome to Rico Face (12 July 2016)
1
Prize: Coolest blue item.
4
2
Rescue a toy cat.
3
3
Conceal a pineapple on your person.
1
4
Set your own task, to be completed by Jon; who wins points for correctly identifying which comedian set which task.
0
5
Team: Construct something for the Taskmaster using flat pack furniture.
4
6
Live: Build the tallest freestanding tower using potato-based products.
0
Total
12
Episode 5: There's Strength in Arches (19 July 2016)
1
Prize: Best piece of memorabilia.
1
2
Place supplied items into a shopping trolley on the other side of a stream.
5
3
Team: Create a stop motion film starring a potato.
2
4
Build the highest freestanding bridge to support a potato, using only the supplied items.
3
5
Live: Put on food handling gloves, eat a banana correctly, put on a tie and clap as many times as possible.
0
Total
11
Grand Total
69
External links
Edit
Community content is available under
CC-BY-SA
unless otherwise noted.